Available Home Sites | Price Sheet | Brochure | Lot Dimensions | Deed Restrictions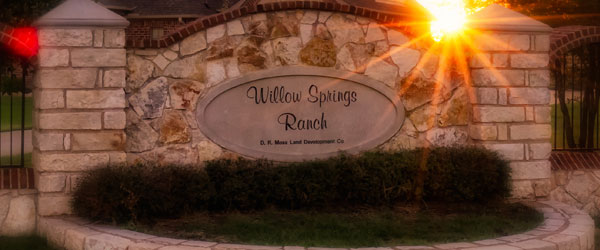 Living in a suburb type setting has always been a draw for most people attempting to escape the bigger city and all of its issues.
Everyone likes to come home to a place where they can expect peace and quiet and escape into their own oasis call home. With the fresh country air, beautiful sunsets or night star gazing, you will never go back to living anywhere else once you have lived at a place that offers all of these amenities.
Willow Springs Golf Course
In addition in this development you also get access to the Willow Spring Golf Course which is just a golf cart ride away to enjoy some great golfing. This course was established in 1966 and is family own and operated, with a club house, sport shop and restaurant.
Spacious Living
With Willow Springs Ranch you get all that and more, the one acre spacious lots give you the privacy you expect, without being able to hear your neighbors conversations indoors just few feet away from you own house. Our side yard separation of houses is more than most front yards of houses, in most of the typically 4 homes per acre development within most cities.
Our large spacious front yards offer the luxurious look and feel of estate living, just as you enter our neighborhoods you start the see and feel the difference because of this, our front yard are more than double the size of most city lots.
One Acre Lots
These one acre lots really stand out it were it matter most, in the back yard, with ample room for a pool and other outdoor living amenities including accessory building, large enough for your hobbies and storage for all of your stuff. Still leaving room for a full yard with enough space to play football or other sports or a small garden. Kids really enjoy all to the additional space and freedom, you will love them living in an environment free form all the problems of downtown living.
Although it is quite a distance to your neighbor house, with the one acre spacing of houses, it's more like rural country neighbors are, everyone is more friendly and looks out for each other, less traffic is on the streets because the number of houses is less on each street, that most neighborhoods.
No Home Owners Association
Another attraction to this development is there are NO Home Owner Association fees to pay! All of the property owners are responsible for taking care of their own property. There are no HOA properties to maintain. The streets are dedicated to the city and they are responsible for their maintenance. Therefore, you save the monies you would spend monthly in most other residential developments.
Visit Willow Springs Golf Course website.
Share and Enjoy